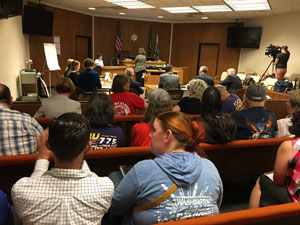 The Freedom Foundation wants your date of birth, but our actions have blocked them for nearly four months.
And that good fight goes on because today (Aug. 16) the state Court of Appeals extended the temporary restraining order against release of your date of birth while our appeal goes forward.
The ruling issued by the commissioner of the appeals court in Tacoma blocks the release of the information affecting tens of thousands of Federation members in dozens of state agencies, colleges and universities.
Today's action continues to block release of your date of birth in dozens of state agencies, colleges and universities. With today's technology, dates of birth can be used to uncover a wealth of other information that raises widespread concerns about fraud and identify theft, said Federation Vice President Judy Kuschel.
So today's ruling is good news and strikes another blow for your privacy – and plain, decent treatment.
We filed the appeal after a Thurston County Superior Court judge on July 29 denied the motion by the Federation and six other unions for a permanent injunction. We appealed immediately and asked for a further stay on release of the information. Today's ruling from the appeals court extends the stay it issued Aug. 1.
Today's ruling blocks release of dates of birth for employees at the following:
Washington State Department of Agriculture, Bellevue College, Centralia Community College, Department of Social and Health Services, Community Colleges Of Spokane, Department of Early Learning, Department of Natural Resources, Department of Corrections, Department of Transportation, Department of Veterans Affairs, Department of Ecology, Employment Security Department, Green River College, Health Care Authority, Department of Health, Washington Horse Racing Commission, Department of Licensing, Department of Labor and Industries, Lower Columbia College, Washington Military Department, Office of Administrative Hearings, Office of the Insurance Commissioner, Office of Minority And
Women's Business Enterprises, School For The Blind, South Puget Sound Community College, The Evergreen State College, Washington Utilities and Transportation Commission, Everett Community College, Peninsula Community College, Shoreline Community College, Whatcom Community College, Seattle College District, Department of Commerce, Department of Enterprise Services, Department of Fish And Wildlife, Human Rights Commission, Washington State Patrol, Washington State Arts Commission and Workforce Training and Education Coordinating Board.
You can download today's ruling on our website at: 2016-08-16 COA Ruling re WA Fed v Stated et al
The court did allow release of your work emails – information that is already readily available from many other sources. Work emails don't raise the same fraud and identity theft alarms. But they do raise issues based on state ethics rules. If you get an email from the Freedom Foundation at work, beware.
In case you forgot, the Freedom Foundation is a self-serving special interest group. They are funded by out-of-state corporate interests intent on taking your rights as a public employee. They have a record of opposing our pay raises, pushing for higher health care costs and cuts to pensions, and eliminating and outsourcing our jobs. And now they want to invade your privacy. They're not on our side.