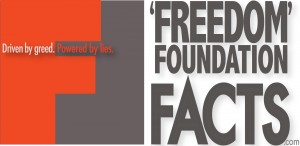 The 'Freedom' Foundation is a special interest think tank funded by corporate and the ultra wealthy who want to dismantle state government, cut public services and jobs, and hand the provision of public services like education and worker's compensation over to the hands of private corporations. They've set their sights on unions because we're the biggest obstacle to their agenda.
"Three years ago we started thinking about this plan for public sector unions, going out and defunding the opposition, and trying to weaken them so we can get people elected that love freedom." Scott Roberts, Freedom Foundation Director.
They say they stand for freedom but what they really want is to free up corporations and the ultra wealthy to make as much money as possible and free working families from jobs with good wages, benefits and protections.
Protect your job, protect our state. Don't let the 'Freedom' Foundation determine our fate.
---
WHO IS THE 'FREEDOM' FOUNDATION?
The Freedom Foundation is a "free market conservative think tank" founded in 1991 by former Republican legislator and gubernatorial candidate Bob Williams.[i] The foundation is registered with the IRS as a 501(c)(3) charitable organization, so contributions are tax deductible and there is no requirement for the foundation to disclose where their money is coming from.
In late 2013, the foundation hired Tom McCabe to be the new CEO.[ii] McCabe had formerly been the Executive Vice President of the Building Industry Association of Washington (BIAW). Now at the Freedom Foundation, McCabe said, "When I took over the Freedom Foundation, I said to board and staff, I want to get back to where we were, lasered in and focused on labor unions, and that's where we are, focused on labor unions…"[iii]
The reason the foundation is "lasered in" on unions is because they know that public sector unions stand in the way of the virulent anti-government agenda of their wealthy benefactors. Breaking unions is part of a partisan national strategy,[iv] and the Freedom Foundation is paid to carry out this plan in Washington and Oregon.[v]
The Freedom Foundation is a member of the State Policy Network (SPN),[vi] "an umbrella organization for a consortium of conservative and libertarian think tanks…"[vii] According to nonprofitquarterly.org, "the fundamental issue… is whether these independently incorporated 501(c)(3) members of the State Policy Network—and the SPN itself—are truly independent, or actually little more than fronts for corporate interests, promoting policies that explicitly benefit their corporate funders on their bottom lines."[viii]
In addition to coordinating attacks on public employees,[ix] SPN has coordinated nationwide strategies to "cut public sector pensions, lower government worker wages, eliminate income taxes, oppose Medicaid expansion, and combat regional efforts to reduce greenhouse gas emissions that cause climate change…"[x]
The Freedom Foundation also had deep ties to the American Legislative Exchange Council (ALEC), a national organization that brings together state legislators and corporate lobbyists to develop model legislation that can be introduced at the state level.[xi] National Public Radio described ALEC as a "dating service" between politicians and corporations.[xii] The New York Times reported that "special interests effectively turn ALEC's lawmaker members into stealth lobbyists, providing them with talking points, signaling how they should vote and collaborating on bills…"[xiii]
The founder and former CEO of the Freedom Foundation, Bob Williams, is active in ALEC's leadership as a member of the "Board of Scholars."[xiv] Among other things, Williams co-wrote, along with Freedom Foundation employee Amber Gunn, ALEC's "State Budget Reform Toolkit."[xv] Among the recommendations endorsed by the Freedom Foundation are to replace public employee pensions with 401(k) plans, replace traditional employee health plans with Health Savings Accounts, delay STEP increases, and outsource more public services to the private sector.
The Freedom Foundation is under scrutiny for potentially violating federal and state laws. A complaint with the IRS alleges the foundation's overtly partisan activities violate federal laws limiting the political involvement of nonprofit organizations.[xvi] In addition, our Attorney General has filed suit against the foundation for allegedly concealing their political contributions in support of local ballot measure campaigns.[xvii]
---
THE FREEDOM FOUNDATION: IN THEIR OWN WORDS
"…Three years ago we started thinking about this plan for public sector unions, going out and defunding the opposition, and trying to weaken them so we can try to get people elected that love freedom…" Scott Roberts, Freedom Foundation staff, January 20, 2015
"I can't think of a problem in society that can't be traced in some way back to the abuses of organized labor…" Tom McCabe, Freedom Foundation CEO, August 29, 2014
"We as conservatives want certain things – we want education reform and we want pension reform and we want less taxes and we want smaller government, and you're never going to get those things with unions in the way." Tom McCabe, April 23, 2014
"We can't afford the excessive pension benefits we've given to unions over the years." Tom McCabe, ibid.
"We have attorneys on staff for the Freedom Foundation, [and] I've given them the task of suing unions." Tom McCabe, ibid.
"I thank [the Freedom Foundation] for their good work… which is that I rely on them totally – enormously – for the work that I do in the Legislature, principally on commerce issues, but also on education, on budget." Sen. John Braun (R-20), December 11, 2014
In a BIAW newsletter, Freedom Foundation CEO McCabe wrote, "I personally yearn for the day when the mammoth state Department of Labor and Industries is closed down, windows shuttered with weeds growing all over its sprawling campus."[xxvi]
---
WHO FUNDS THE FREEDOM FOUNDATION?
CLICK HERE to see who funds the 'Freedom' Foundation.
---
THE FREEDOM FOUNDATION AGENDA
States Should Control Costs and Improve Government Efficiency with the following tactics:
Adopt a State Hiring Freeze
Reform State Pensions
Restructure State Retiree Health Care Plans
Eliminate Positions Vacant More Than Six Months
Delay Automatic Pay Increases
Adopt Activity-Based Costing
Adopt a Sunset Review Process for State Agencies, Boards, and Commissions
Allow the State Auditor to Conduct Performance Audits
Establish a System of Independent Recovery Audits for Improper Payments of Taxpayer Funds
Embrace the Expanded Use of Privatization and Competitive Contracting
Establish a State Privatization and Efficiency Council
Create a Statewide Real Property Inventory and Search the Balance Sheet for Asset Sale and Lease Opportunities
Achieve Savings Through Employee Incentive Programs
    –From Freedom Foundation founder, Bob Williams, co-author of the policy manual for state legislators, ALEC Budget Toolkit
---
[i] https://en.wikipedia.org/wiki/Freedom_Foundation_%28Washington%29
[ii] http://washingtonstatewire.com/blog/tom-mccabe-to-take-over-reins-at-freedom-foundation/
[iii] https://www.youtube.com/watch?v=ex3Bv0-lDVA
[iv] https://www.youtube.com/watch?v=rI0uSKe8q1Y
[v] http://www.sourcewatch.org/index.php/Portal:State_Policy_Network
[vi] http://www.sourcewatch.org/index.php/SPN_Members
[vii] https://en.wikipedia.org/wiki/State_Policy_Network
[viii] https://nonprofitquarterly.org/2013/11/14/corporate-money-in-network-of-right-wing-state-policy-think-tanks/
[ix] http://www.motherjones.com/politics/2011/04/state-policy-network-union-bargaining
[x] http://www.upi.com/Top_News/US/2013/12/06/State-conservative-groups-plan-public-sector-assault/62811386313200/
[xi] https://en.wikipedia.org/wiki/American_Legislative_Exchange_Council
[xii] http://www.npr.org/2013/12/10/249956329/how-alec-serves-as-a-dating-service-for-politicians-and-corporations
[xiii] http://www.nytimes.com/2012/04/22/us/alec-a-tax-exempt-group-mixes-legislators-and-lobbyists.html?pagewanted=all&_r=0
[xiv] http://www.alec.org/about/leadership/
[xv] http://www.alec.org/app/uploads/2011/10/Budget_toolkit.pdf
[xvi] http://nwaccountabilityproject.com/news/coalition-of-community-and-labor-groups-files-irs-complaint-against-freedom-foundation-for-blatant-violation-of-tax-exempt-charity-status/
[xvii] https://nonprofitquarterly.org/2015/10/16/washington-ag-sues-both-sides-of-a-right-to-work-ballot-battle-for-campaign-finance-violations/
[xxvi] http://www.seattletimes.com/seattle-news/builders-group-focuses-on-mending-fences/